Worship
We offer four services at TVLC. Each service is about an hour long and includes singing, Bible readings, a sermon, prayers, and communion that is open to all. Each service varies in style, so you can find the one that is a good fit for you.
Guests With Children
Children are welcome at all services! At our 9:15am service, SUNDAY SCHOOL classes are available during the school year for 3-year-olds through fifth-graders. Before they leave for Sunday School, kids are invited to join the pastor for a children's message. Children's bulletins and crayons are available on request from the ushers. If your little ones grow restless, there is a cry room located at the back of the sanctuary.
In The Gathering service at 10:30am, there are opportunities for kids to be involved and move during worship, a children's message, and a special activity time called "Kid Central" during the sermon.
Childcare is available year-round for infants through six-year-olds. The nursery is open from 8:45am – 12:00pm and is located just outside the sanctuary.
Accessibility Assistance
Our campus offers accessible parking, walkways, and buildings. Large print bulletins are available on request from the ushers at all services. Songs and texts are shown on video screens. For persons with hearing loss, the sanctuary provides an audio induction loop system.An audio induction loop system transmits an audio signal directly into a hearing aid via a magnetic field, greatly reducing background noise, competing sounds, reverberation and other acoustic distortions that reduce clarity of sound. Headset listening devices are also available on request from the ushers.
This service meets in the sanctuary and offers an informal setting of worship with piano and guitars. The service provides a smaller and more casual setting.
This service meets in the sanctuary and provides a beautiful musical setting of classic Lutheran worship led by singers and instrumentalists. Worship to your favorite hymns from yesterday and today. After worship, you are invited to join us on the patio for fellowship, coffee or lemonade, and treats.
9:15AM
Classic Worship
with Sunday School
This service meets in the sanctuary and features classic, liturgical worship with choir, organ, and other instruments. Sunday School is offered during the school year for 3-year-olds through fifth-graders. Children begin worship in the sanctuary with their families and are dismissed to classes after a children's message. After worship, please join us on the patio for fellowship and coffee or lemonade.
10:30AM
Modern Worship
The Gathering @ TVLC
This service meets in the Nausin Family Life Center and features high energy worship led by a full band. The service engages all ages by creating a unique space that allows for movement and interactive worship. There is a devoted time of crafts, learning, and music for children during the sermon. Coffee, lemonade, and snacks are available to enjoy during the service.
FAQ
Have questions about TVLC? Here are answers to some of our most frequently asked questions.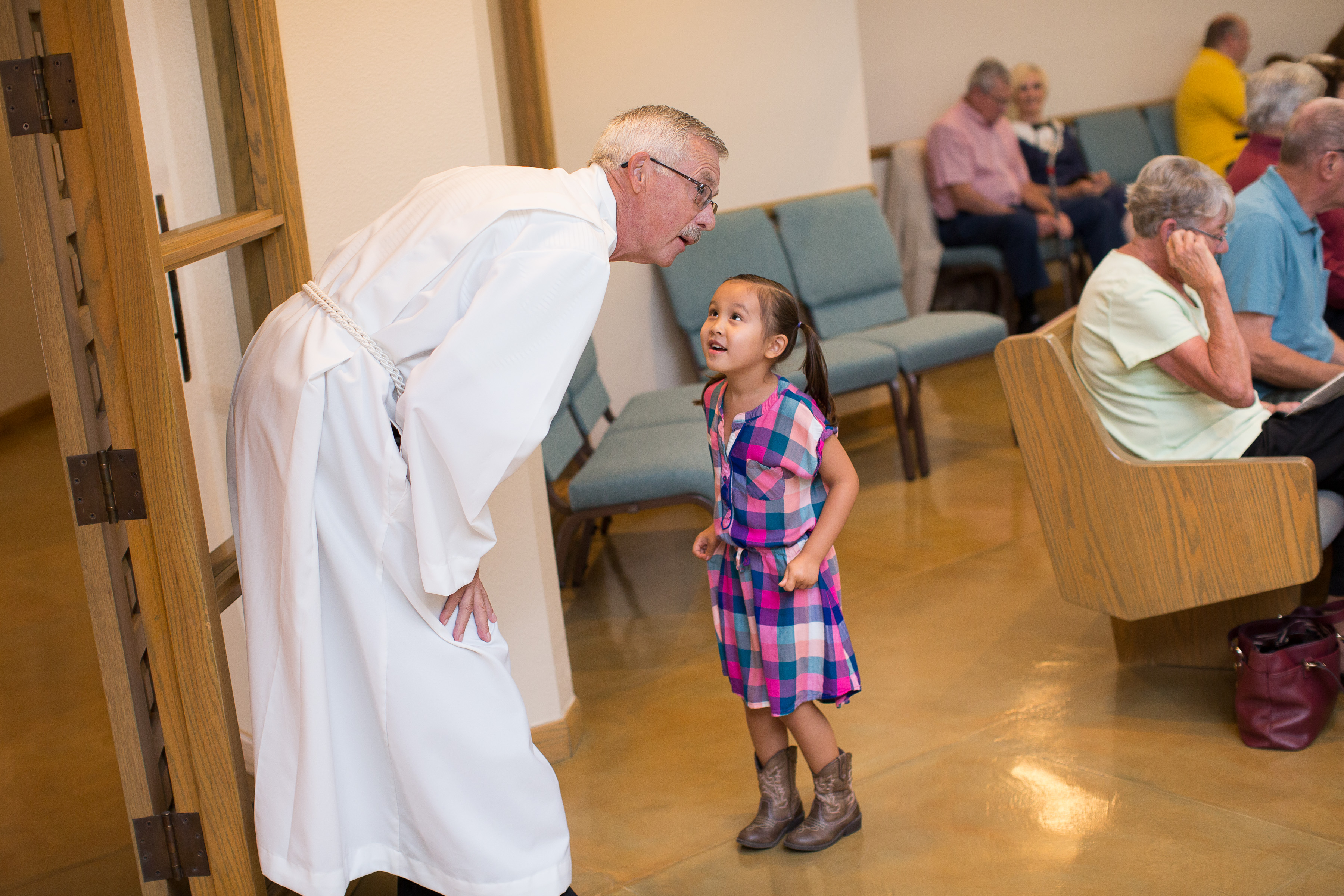 What is a Lutheran?
Lutherans are Christians who believe in God's abundant love and grace. We follow Jesus' teaching and example as we live out our faith in our daily lives. TVLC is a member of the Evangelical Lutheran Church of America (ELCA).
Do I have to be a Lutheran to attend TVLC?
Absolutely not! All people are welcome here, no matter their background. Whether you come from other faith traditions or denominations or are new to church, you are welcome here.
What should I wear?
Come as you are! We care about you, not what you wear. You will see us wearing everything from flip-flops and jeans to business casual.
Where do I park?
What should I expect when I arrive?
You will find friendly people who will help you find your way around campus! Volunteers are located on the sidewalks and greeters and ushers are also available at each service to answer questions and help direct you.
What is available for my children?
We offer programs for infants through high school. From our nursery through our youth groups, your kids will have a safe place to grow in their faith. Please visit our CONNECT page to learn more about our age-specific programs.
Will I Be Asked For Money?
There is an opportunity to offer a gift at each service, but it's not expected of visitors. TVLC is supported financially by people who have chosen to make it their church home.
How do I meet people and get involved?
We invite you to meet with us before or after services to share coffee or lemonade and learn more about TVLC. We also offer many ways to connect with others during the week including fellowship, support, and service groups and Bible studies. Check out our many and varied opportunities on our CONNECT and SERVE pages.
How do I become a member?
We would love to have you join our church family! We typically receive new members twice each year. CONTACT US and we'll help you make the connection.
How can I learn more about TVLC?
How Can We Help?
Looking for additional information? Have a question not listed as an FAQ? We can help! Please fill out the contact form and we'll be in touch.